About

Relax by The Reservoir
A Luxurious Resort That Enthrall Your Senses
Statue of unity tent city – 1, A Unique Luxury Tented Accommodation Near Statue Of Unity at Kevadia with best-in-class hospitality, Award Winning Accommodation, Statue of unity tent city providing you multiple option that complement your lifestyle with clusters of well-appointed swiss cottages that enthralls your senses, by delicious multicuisine, live music and top-notch amenities, lake view Cottages, Infinity swimming pool and nature. Statue of unity Tent City -1 is surrounded by the nature of wildly expanded Vindyachal and Satpuda Mountain Ranges along with serene water of Narmada River and Lake facing Accommodation near Statue of Unity that's makes the finest places to Stay Near Statue Of Unity. Tent City Near Statue of Unity gives easy access to explore of All Monuments near Statue of Unity, All Attractions near Statue of Unity is easily accessible thru Stay at Tent City Narmada, Statue of Unity Tent City Includes Complimentary sightseen of explore places entailing natural wonders and architectural marvel. The Statue of Unity Tent City-1 makes for one of the finest places to Stay Near Statue of Unity
Amenities At Statue Of Unity Tent City – 1
Unique luxury tented accommodation
Lake facing Swiss cottages surrounded by nature
Infinity swimming pool
Fitness center
Dining hall
Amphitheater
Night cultural activity (local tribal dance)
Multipurpose hall
The Statue of Unity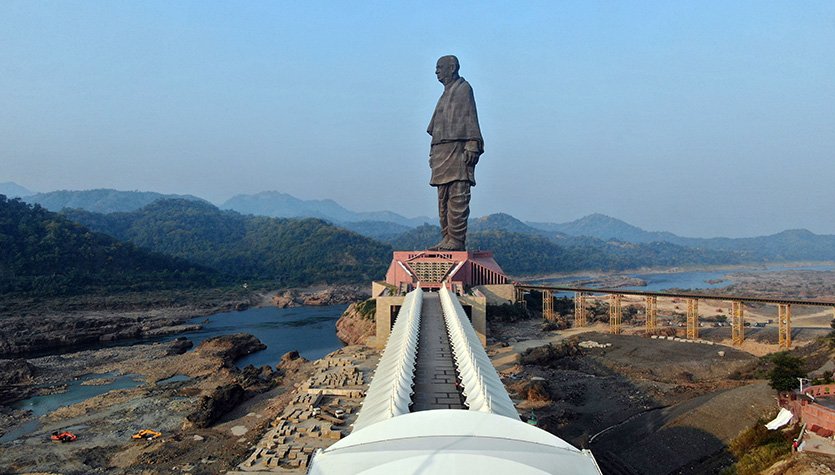 The world's tallest statue was created by the government as the tribute to the Shree Sardar Vallabh Bhai Patel the 'IRON MAN' of India. on October 2010 Hon'ble prime minister Shree Narendra Modi has announced for the project of making the statue of unity. And the construction was started in 2013 by Larsen & Toubro. Statue of Unity took 57 months to complete the project which includes 15 Months of planning, 40 months of construction and 02 months to handing Over by the consortium.
The Height of The Statue Of Unity was fixed as '182' meters to match the total democratic assembly constituencies in the state of Gujarat. At the height of 153, Statue of Unity has a viewing gallery with a panoramic view of the Sardar Sarovar Dam. The statue is built by using of 6,000 Mton of Structural steel and 70,000 Mton of cement, the base of the statue is constructed with over 129 tons of scrap iron, donated by nearly 100 million farmers from across India. The statue of unity is located on the Island of "sadhu bet" in Narmada river at Kevadia district, Rajpipla, Gujarat, with the face viewing towards Sardar Sarovar Dam, and one side it's surrounded by breathtaking Vindyachal and Satpuda mountain range and another side the Narmada river.
World's tallest statue Statue of Unity included in 8 Wonders of The Shanghai Cooperation Organisation (SCO) list
The 182-meter tallest Statue of Unity in Gujarat has been included in the Shanghai Cooperation Organisation's '8 Wonders of SCO' list, External Affairs Minister S Jaishankar announced to Twitter, Jaishankar appreciated the SCO's efforts towards promoting tourism among member nations and asserted that the statue's inclusion in the list will "surely serve as an inspiration".
Statue of Unity Tent City
Stay at the best Tent City near Statue of Unity…Packages starts from ₹5,500 per Person
24 x 7 – Tent City Helpline Number
+91 7567 227 226
booking@aasaanholidays.com
Get special Discounted Rates for Statue of Unity Tent City.